Horse & Wagon
Package: Maasduinen ride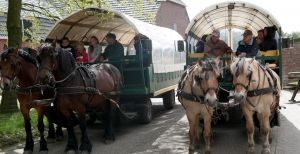 From Hoeve Carpe Diem you explore the beautiful Maasduinen National Park in a horse-drawn wagon. Why not climb the 12.5 m high observation tower? It is built on top of the highest parabolic dune in this part of the Netherlands and the view is simply breathtaking! The wagon also stops in the Quin nature reserve, boasting a number of fens surrounded by parabolic dunes. Additionally bookable options: a nice cup of coffee or tea and a slice of apple pie or a Farmer's Leisure Lunch.
The price of a 1 hour horse-drawn wagon ride through the Maasduinen National Park is € 100. The second hour will also cost € 100, every additional hour after the second hour costs € 75.
Additional options:
Welcome with coffee/tea and apple pie
€ 6,00 pp


Farmer's Leisure Lunch (Boerengemak)
€ 12,95 pp
Also see General information.
This wagon ride is provided by Equestrian Centre Bergemo.