General information
Come by bike, on foot, on horseback or in a horse-drawn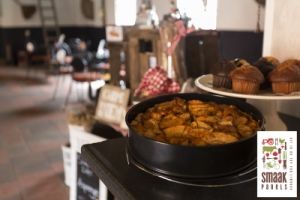 carriage/wagon and go back in history through the nostalgic granary and relive the glory of former times. Let us spoil you with tasty delicacies on our farmstead terrace! Looking for a fun day out with a group of friends, family or a hiking or cycling club? We cater for young, old, and everyone in between! Would you like to combine a delicious cup of coffee/tea and a slice of apple pie or a Farmer's Leisure Lunch (Boerengemak) with a fun activity? From Hoeve Carpe Diem you can explore the Maasduinen National Park on a Segway or in a horse-drawn carriage or covered wagon! Afterwards you can play nostalgic Dutch games. For walking enthusiasts, we offer a food walking tour! Please get in touch and enquire after the possibilities!
Are you planning a party to celebrate your 25th wedding anniversary, a birthday, a reunion or a company party? A nostalgic venue like Hoeve Carpe Diem could be what you are looking for! We offer a diverse range of options to choose from and are happy to send you a quote for a bespoke programme.

The following packages are intended for groups of at least 10 persons.
Coffee/tea and apple pie
(2x) coffee/tea and one slice of apple pie € 6,00 pp
Farmer's Leisure Lunch (Boerengemak)
Prepare your own sandwiches and rolls! This lunch consists of different types of bread, e.g. waldcorn, white, brown or raisin bread, and a broad variety of sweet and savoury sandwich fillings and spreads, including our specialty: farm-fresh egg salad! For those with a healthy appetite, we can add homemade soup as a starter!
What is included in the price?
Coffee/tea or milk;
Different types of bread, e.g. waldcorn, white, brown or raisin bread;
Savoury sandwich fillings: cold meats, cheese and farm-fresh egg salad;
Sweet spreads: jam and 'Maasduinen' honey
€14,95 pp
You can add:

Nostalgic Dutch games
Are you a group looking for a fun activity to spice up your lunch or to add to your programme? We can offer you a wide variety of nostalgic Dutch games, including: a giant Four in a Row, a Jenga Game, a Ball Throwing Game or a Marble Maze, to name just a few!