History of the farmstead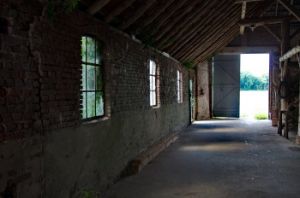 The foundation of the farmstead dates from the 16
th
century. At that time heath and fens surrounded the house, which was probably inhabited by dignitaries. Later, when a nearby forest was cleared in the early 18
th
century, a farm was built in this spot to store the wood which was later put to use in the mining industry. In 1908 the living quarters of the farm were nearly destroyed by fire. Around the blackened building a completely new house was erected. When a wall anchor with the year 1608 was discovered, the "6" was simply turned into a "9". In 1930 the farmstead became a mixed farm with dairy cows, young stock, chickens, a number of pigs and grain fields.
The big Granary still has the same construction as 100 years ago...
It was not until the late 1950s that the farm got electricity. Until then a big generator had provided power. In the mid-90s cows were still milked and young stock was still reared here at the farm. Now Hoeve Carpe Diem is a place to enjoy all the good things life - a farmer's life in particular - has to offer.