Camping in the Maasduinen National Park
If you want to enjoy the great outdoors for a bit longer, why not come and stay at our campsite!
Surrounded by fields and pastures, our farm campsite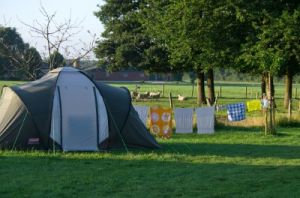 comprises of 8 superior pitches equipped with electricity, water and drainage. In addition, we have 12 standard pitches equipped with electricity. In the early hours of the morning you may experience nature slowly waking up, and see hares, rabbits and even deer and roe deer! Would you like to get a taste of farm life and enjoy the tranquillity of wide open spaces? Then Hoeve Carpe Diem is the place to be.
SVR Campsite
SVR stands for Stichting Vrije Recreatie, which translated in English

means Foundation for Free Recreation. This foundation promotes camping at farms. For those who frequently stay at SVR campsites, it is good value to become a donor. For as little as €10.00 per calendar year, donors can enjoy SVR rates. You can become a donor upon arrival at our campsite, although this is of course not obligatory. Click here for our camping rates.