A night in the Orchard
"An overnight stay different than usual..."
Enjoy the peace and tranquillity of nature and book an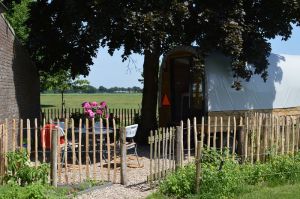 'Overnight Stay in the Orchard'. Not in a standard Bed & Breakfast room, but a cosy wagon below and between the fruit trees to spend the night! The wagon is furnished with a sleeping and sitting area as well as a private terrace overlooking the fields, meadows and forests of the Maasduinen National Park. Breakfast is served on the farm's inner terrace or on the wagon's private terrace. The wagon is suitable for one or two persons.
Your pet is also welcome in the orchard! Your pet may sleep in the wagon at night and by day it may walk around, off lead, in the fenced area around the wagon.
Please fill in the contact form to make a reservation.